PRESS
2019
We are the 2019 Populist Award's runner-up for Best Sushi
Daily Hive's Dished highlights our Valentine's Day menu among 25 Vancouver restaurants serving special Valentine's Day dinners
Our Valentine's Day menu is featured in BC Living's Date Night: Valentine's Day 2019 Dining Guide
We are one of Noms Magazine's picks for Top Restaurants To Have Your Valentine's Day Dinner At In Vancouver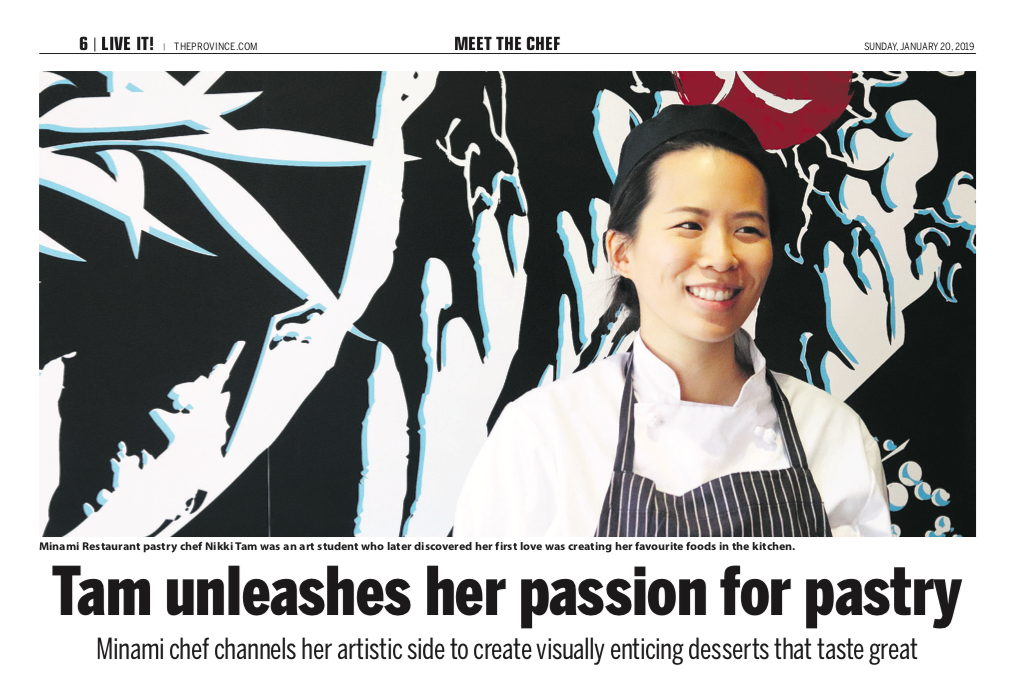 Lead Pastry Chef Nikki Tam is featured in The Province's Meet the Chef series!
Corporate Kitchen Chef Alan Ferrer is featured in OpenTable's 11 Inspiring Top Chefs Across Canada
2018
We are OpenTable's 2018 Diners' Choice for the following categories:
Japanese
Most Booked in Vancouver
Noms Magazine highlights our New Year's Eve Set Menu in their article 12 Highly-Rated Restaurants Offering Exclusive New Year's Menus in Vancouver
Our Lead Pastry Chef Nikki Tam and her soft-baked gingerbread cookies are featured in BC Living's 6 Holiday Recipes Reminiscent of Childhood.
We are among the Best Sushi Restaurants in Vancouver You Must Visit according to Noms Magazine
German publication Blu features Minami in their Stopover: Vancouver article.
Food blogger Sherman Chan shares his experience with our Holiday Aburi Shokai in this The Filipino Post article.
Daily Hive Vancouver's Hanna Mclean highlights her favourites from our Aburi Holiday Shokai tasting in her article Japanese Eatery Unveils Stellar New Festive Feast.
CTV's Sonia Beeksma and DJ Chloe visits Minami during their Yaletown In Your Neighbourhood segment.
The Vancouver Sun shares the recipe to our seasonal Pear Almond Tart in Thanksgiving Recipes: Vancouver Chefs Dish on their Favourite Desserts
Lisa from The Editor's Diary joined us for lunch in A Sushi Love Affair at Minami
The Calgary Herald's Mhairri Woodhall highlights our delicious Ocean Wise king salmon sashimi and melt-in-your-mouth flame seared Japanese wagyu in her article Rainy-Day Options for Family Fun in Vancouver
We are one of Daily Hive and The Georgia Straight's picks for restaurants to treat your Dad at on Father's Day in Metro Vancouver
NUVO Magazine names us one of the Best Sushi Restaurants in Vancouver
BC Living recommends our feature Father's Day menu in 18 Father's Day Gifts He Actually Wants
7×7 highlighted our Aburi Oshi Sushi and Green Tea Opera in their Vancouver Summer Getaway article
Our hidden garden patio is named one of Dished Vancouver's Best Hidden Patios in Vancouver
Sherman reviews our new spring/summer 2018 menu in this Asian Pacfic Post article
Scout Magazine throws back to six years ago, when Japanese muralist Hideki Kimura was adorning Minami's walls with his signature artwork
Our Mother's Day lunch and dinner features are top picks from The Georgia Straight for Where to Take Mom for a Magnificent Mother's Day Meal in Vancouver
BC Living highlights our Mother's Day Features in their article Treat Mom to the Most Delicious Mother's Day Menus
Ming Pao highlights our seasonal Sakura features and new spring menu in this feature
Scout Magazine covers our new Sakura Inspired Dishes and Drinks
We are featured in Travel + Leisure's Where to Feast in Vancouver
Aleesha Harris from The Province and Vancouver Sun has featured our Valentine's Day-exclusive Birds and Roses cocktail as part of their Valentine's Day: Seven recipes for sips and nibbles to served your loved one.
2017
Where Magazine highlighted our use of sustainable, Ocean-Wise seafood for our Aburi sushi in their article Sustainably Delicious Sushi!
Vancouver Magazine featured our hidden garden patio and Minami Signature Sangria in 9 Best Hidden Patios in Vancouver You (Probably) Don't Know About!
Nuvo Magazine named us as one of the Best Sushi Restaurants in Vancouver!
Westender named us one of the Best Hidden Patios in Vancouver!
Air Canada Enroute's Vancouver City Guide featured us as a "where to eat and drink" destination in Vancouver!
2017 Where to Dine Awards named us the Reader's Choice for Japanese cuisine!
Daily Hive featured our new Summer 2017 menu – with photos!
Executive Chef Kazuhiro made an appearance on Global TV's Saturday Chef segment, making our feature Sakura Roll
The Georgia Straight's 2017 Golden Plates named us one of the restaurants for Best Japanese and Best Sushi
YP Dine recommended us as an Upscale Restaurant for Serious Foodies during Dine Out Vancouver
The Westender featured Minami as one of Vancouver's Best Happy Hours
2016
Sake Specialist Miki Ellis tastes and talks sake 101 with Global News at Noon Weekend
Executive Chef Kazuhiro Hayashi was quoted in The Vancouver Sun's debate about whether size matters for sushi
Executive Chef Kazuhiro Hayashi was featured on CBC for Sushi Day "Vancouver Chef Blends Tradition with Experimentation"
Georgia Straight selected us for 5 places to find cherry-blossom-inspired foods
Georgia Straight also named us 5 Restaurants to Check Out during Taste of Yaletown 2016

19th Annual Golden Plates (2016) announced us as one of the winners for Best in Japanese and Best in Sushi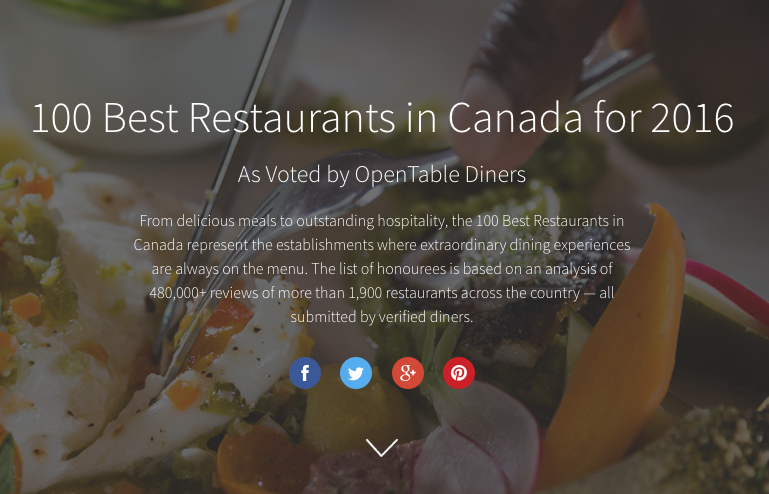 Opentable featured us as one of the 100 Best Restaurants in Canada
We are one of Style Democracy's Best Sushi Restaurants in Vancouver
Scout Magazine named our hidden patio one of Vancouver's Best Patios, Al Fresco Oases and Secret Hideaways