To Go
Most of our regular menu items can be prepared to go and picked up during regular business hours.
To bring some Aburi flair to your next event, meeting, or get together, order a sushi platter for your group.  Comprised of our most popular and inventive items, these platters are sure to impress your guests. (Minimum one hour notice).
To place your To Go order please call us at 604.685.8080.

MOMIJI  – $110
salmon oshi, ebi oshi, saba oshi, champagne roll, red wave roll, tuna hosomaki, salmon hosomaki (58 pieces)
The Momiji Platter is the perfect combination for you to enjoy our famous flame seared Aburi Oshi Sushi, as well as our Signature Rolls.
Aburi Salmon Oshi – easily our most popular dish, the Salmon Oshi boasts an exceptional balance of textures and flavours.  Our unique style of sushi rice is layered with sweet-soy brushed salmon, topped with our special sauce, charcoal flame seared, and garnished with a delicate jalapeno slice.  The combination of aroma and flavours is truly unforgettable.
Aburi Ebi Oshi – the freshness of ume (plum) is combined our special sauce to and finished with a splash of lime juice and touch of zest, delivering a subtle yet vibrant flavour.
Aburi Saba Oshi – the richness of our house-cured Saba is balanced with miso, paired with our sushi rice, creating a melt in your mouth, savoury, flavour experience.
Red Wave Roll – prawn, avocado, wrapped in red tuna, masatake sauce
Champagne Roll – scallop, sockeye salmon, uni, cucumber, rolled in golden tobiko, Miku sauce

SAKURA – $90
red wave roll, mainland roll, salmon oshi, ebi oshi, saba bo, Aburi bincho, hotate nigiri, salmon maki, tekka maki (54 pieces)
The Sakura platter features all that Aburi style can offer. It includes our specialty nigiri sushi, signature Salmon Oshi, and Saba Bouzushi. The Saba Bouzushi is a hidden masterpiece of the Aburi Brand, it is a must try dish for anyone looking to enjoy a truly unique experience. Mouth-watering, lightly grilled, crispy fat saba is paired with the sweetness of Gari (ginger), shari and soy sauce creating a flavour combination that is sure to take your breath away.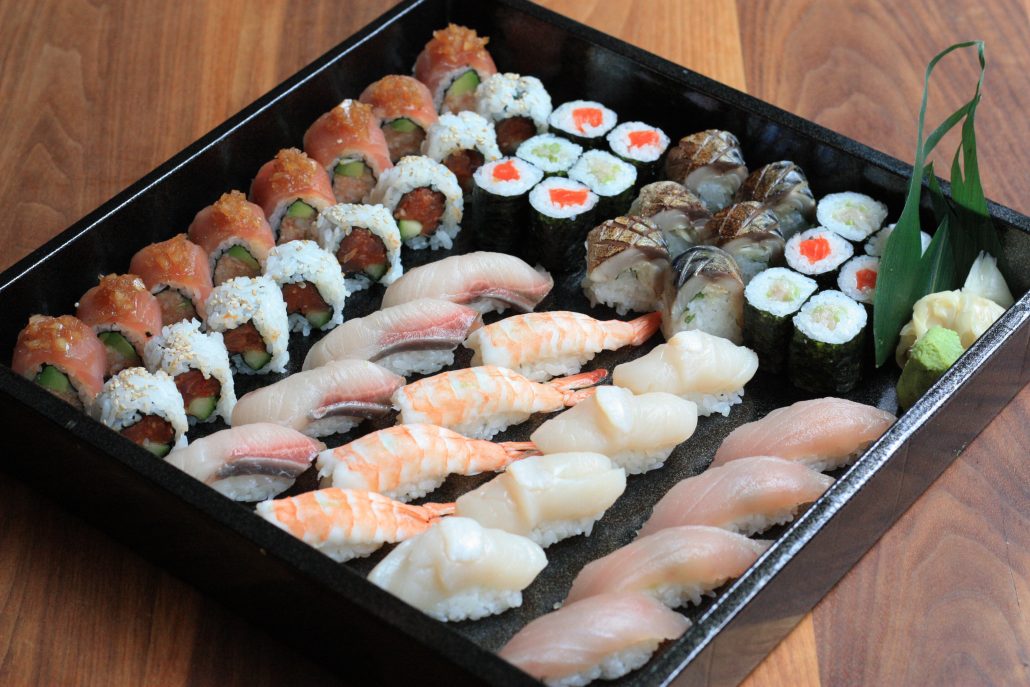 KAEDE – $90
red wave roll, negitoro maki, salmon maki, hamachi nigiri, ebi nigiri, hotate nigiri, spicy tuna roll, saba bo, bincho gunkan (52 pieces)
Shari (rice) is the key factor for creating exceptional sushi. Our unique preparation of Shari is what separates our sushi from the rest. Traditional methods provide the foundation for cooking shari, but secret is in the flavouring. The best way to highlight the significance of shari is to serve it in the classic nigiri style. The uncompromised, expertly formed rice is fully visible. The Kaede platter, served with house original soy sauce provides you with the chance to explore flavour beyond your imagination. The signature Red Wave roll compliments the platter.

VEGETABLE SUSHI PLATTER – $65
garden roll, kappa maki, avocado maki, inari sushi, assorted vegetable nigiri (52 pieces)
Looking for a vegetarian-friendly sushi platter? Look no further – our Vegetable Sushi Platter is as delicious as it colourful and is comprised of our most popular vegetarian sushi options.
Garden Roll – asparagus, pickled daikon and carrots, avocado, wrapped in shiso and braised Japanese eggplant,
tomato chutney, chives
Inari Sushi – sweet soy fried tofu filled with kale goma-ae, miso tofu, and kaiso salad
Kappa Maki
Avocado Maki
Assorted Vegetable Nigiri